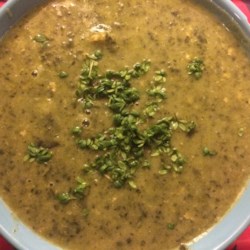 Ingredients:
200 g of Tuscan kale
300 g of potatoes
1 onion
2 garlic cloves
1 L of water
2 vegetable stock cubes
2 dl of plant-based

crème fraîche

1-2 tbsp of black pepper
2-3 tbsp of nutritional yeast (optional)
Instructions:
Prepare the ingredients by removing the stems of the Tuscan kale and cutting the leaves up into smaller pieces, peeling the potatoes and cutting them into smaller pieces, and finely chopping up the onions and garlic cloves.

Pour enough water into a large pan to cover its bottom and steam the onions and garlic on medium heat for 2 minutes.

Throw in the Tuscan kale and the potatoes. Allow the ingredients to cook for 8 more minutes while occasionally stirring them. 

Pour the (1 L) water and the vegetable stock cubes into the pan. Let the soup simmer for 20 minutes.

Insert the plant-based crème fraîche into the pan and use a blender to turn the soup into a smoother mixture. Season the soup with black pepper and nutritional yeast, if desired. 

Enjoy!